My parents were the children of Russian Jewish immigrants. They were raised as conservative Jews but after they married and began to raise children, they moved into a looser form of Jewish observance, with a large component of enlightened secular humanism. My mother was a concert pianist and writer, and my father was a biochemist, photographer and linguist. I was their first child, and they were very delighted with me.
I knew from synagogue attendance and years of Hebrew school that God was the "thing" I needed to fill the hole in my constantly aching heart.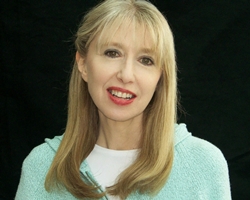 Although I privately prayed in bed every night and I did believe that He heard me, I did not hear His voice in my heart, nor did I know His character or biblical requirements for His people.
God's blessings in my life were very evident, and I sensed that He loved me. Even so, it could not be said that I had a personal relationship with God, or that I understood the concepts of righteousness, holiness or sin. Why did my Hebrew school not address this need for relationship? Where was the Reality and Presence of God in our ancient religion?
During a difficult first year away at college, I became depressed; I even entertained thoughts of suicide from time to time.
Throughout the summer after my first year away, I began a series of conversations with my friend Lyn, whom I had known since Junior High. She had just come into a personal relationship with Jesus, and I asked her every ponderous question that an unfulfilled yet skeptical college student would ask. Finally, I asked her something about the people in the world who never heard of Jesus, and the potential injustice of God. Oddly, her simple answer ended my month-long interrogation. "Jill, God is just. Jesus is coming back whether you believe it or not."
I was stunned at the simplicity of this statement. His return was an absolute future reality, irrespective of my subjective beliefs. Objective truth was NOT connected to our personal opinions and beliefs! I did not want to be living this way when He returned. I already sensed that this event could be a dreadful moment in history.
One week before returning to my university, I prayed with Lyn and turned my heart toward Yeshua (Jesus) to receive atonement and forgiveness for my sins. My sinful nature was evident to me, and I now knew that my longstanding sense of guilt and unworthiness was accurate. I had always felt unclean, but no one could help me understand it or rectify this condition. I now realized that Yeshua's sacrifice was the only act of cleansing which could restore me to the accepting and loving relationship with God for which I was created. Our Hebrew Scriptures were full of the sacrifice of animals to restore the worshiper to God, and our father Abraham was asked to sacrifice his only son; why could this sinless man not offer Himself as a perfect sacrifice on our behalf?
In 1982, my husband and I immigrated to Israel, and began a new life there.
Jill's Ministry
Jill Shannon is a Messianic Jewish Bible teacher, author and singer/songwriter. Growing up in a Reform Jewish home, she accepted the Lord in 1973. In the 1980's, Jill and her husband immigrated to Israel, learned Hebrew and gave birth to three children. During these years in Israel, she endured hardship and received vital lessons, shared in her first book, "Coffee Talks with Messiah: When Intimacy Meets Revelation."
Jill's second book is an in-depth look at the Feasts of the Lord, presented in a passionate and inviting way for His bride from all the nations. They will feel His loving invitation to come and dine with their beloved at His banqueting table; these feasts are a prophetic rehearsal for the Wedding Supper of the Lamb. The book is, "A Prophetic Calendar: The Feasts of Israel," Destiny Image Publishers, 2009.
Jill's third book, "The Seduction of Christianity: Overcoming the Lukewarm Spirit of the Church" is an intense combination of biblical teachings, revelatory encounters and last days' urgent warnings, so that the church can quickly awaken to holiness, purity, humility, and receive the needed authority to face the onslaught of evil that is coming against the Lord's people.
Her fourth book, "Israel's Prophetic Destiny: If I Forget Jerusalem" shares the bigger picture of Israel's covenants, history, modern political issues, and future prophetic destiny in the light of Scriptures, along with detailed timelines of historical events to put things in perspective. Overshadowing all of the scriptural studies is the undying commitment of the Lord to His ancient covenant nation and people.
Jill's fifth book, "Unveiling the Song of Songs" is an in-depth commentary on the Song of Solomon, explored from a scholarly, devotional, Hebraic, and prophetic perspective. It will intensify your personal relationship with the Lord, as you track your journey with the Shulamite's, who is actually the Bride of Yeshua through the ages.
Jill's 6th and newest book is "The Priestly Songwriter," published in October, 2017. It combines spiritual training, intense musical theory, diagrams and practical workshops, to help the reader begin writing their own beautiful worship songs. Learn more about this unique and comprehensive musical/spiritual resource on the Books Page.
Jill currently speaks and writes about experiencing God's glory, holy living and intimate friendship with the Lord, the biblical Feasts, Israel, the Church and the End Times. Jill is also a singer/songwriter, with eight worship CDs to date. See the Music page for album descriptions, themes and to listen to clips. These projects are stepping stones in Jill's journey into intimacy and transparent spiritual and musical expression, and are: "A Part of Me", "Beckon Me", "Remember Me", "I AM the Broken Piece!", "Song of the Lamb", "The Seven Spirits of God", "Song of the Beloved", "Sounds of Heaven", "Overcomer", "Psalms:A Priest Forever", and her newest one, from June, 2017, "Home to My Father."
Jill presently resides in Israel with her husband. She has two grown daughters, a son and daughter-in-law, and two grandchildren.