Overcomer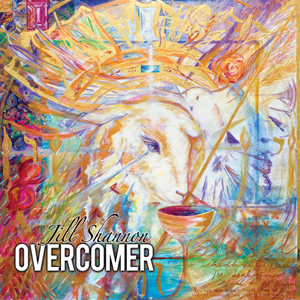 NOW AVAILABLE!
I didn't plan to make another CD after Song of the Beloved, but the Lord had another idea.
In November, 2014, I underwent a fairly serious surgery for a worsening, yet not life-threatening condition. A couple weeks before the surgery, I heard Pastor Joe Sweet (Shekinah Worship Center, Lancaster, CA) give an awesome message on suffering and endurance. I didn't realize it, but that message would become a seed in my heart for these new songs. The first 4 songs were written during the week just before I went in for surgery. I prayed about whether these new songs were truly from the Lord, and whether He would want me to move forward into another project (CD), which is always a huge commitment to produce. He gave me a visual sign that He knew I would understand, indicating that He had made me a songbird, and songbirds sing. I guessed that was the Lord's way of saying, "Go ahead with this project." So…4 songs written before the surgery.
My dear friend Cathy came to Israel to help and take care of me, for the two weeks after the surgery, as I was warned that a great deal of rest was required to recover, and I couldn't do my normal work. We thought I would be lying around, and she would be running around doing housework and feeding me meals in my convalescence. Nothing of the kind happened! Early on the first morning after I came home from the hospital, Cathy received by revelation lyrics from Isaiah 53 and a tune to a new song, and she brought her journal to my bedroom very early. We spent the rest of the day working on it, and I was down at the piano already, creating it based on her awesome revelation. The next day, she had a vision of both of us sitting on my couch with our journals in hand, and that the Lord Himself would give us the next song together. So we did, and He did! We received a download from the Lord's heart for His bride, a most intimate word directly from Him. That evening, I just happened to sit down at the piano, with no intention of writing music to our new lyrics, but instantly, I played the new song (Righteous Right Arm) on the spot! Cathy heard me from the kitchen, and raced in to hear what was happening in that one moment she was washing dishes! And then again,the Lord spoke a small portion of new lyrics to me during the next night, and the seventh song came forth over the next few days. The word He spoke to me (though I sensed this word was not to me personally, but to His people,) was: "Lonely one, you want things to be easier. I understand, but I tell you, they'll grow harder still, until My glory arises, breaks in and shines upon you. The darkness will increase, but I have prepared a response to the darkness." This became "Lion of Yehudah."
I continued to work on these new songs long after Cathy returned home, and eventually knew I needed to record the project this spring, 2015. These are songs of the pain, fear, suffering, endurance and victories of the Overcoming Bride. They will bring courage, encouragement, the Lord's compassion, and even impartation to stand firm and steady in the coming darkness. This is my prayer for all who hear it.
****Sorry…this CD cannot be ordered from this website, due to losing my inventory in the floods in late July, 2022. However, you can download this album on i-tunes, Spotify, and all digital distribution sites. You can also download individual songs. My apologies for this inconvenience.
Listen to clips of the new songs

Overcomer (clips 1 and 2)
The Steadfast Love (clips 1 and 2)
To the Seven Churches (clips 1 and 2)
Overcoming King (clips 1 and 2)
Righteous Right Arm (clips 1 and 2)
Job's Song (clips 1 and 2)
Lion of Yehudah (clips 1 and 2)